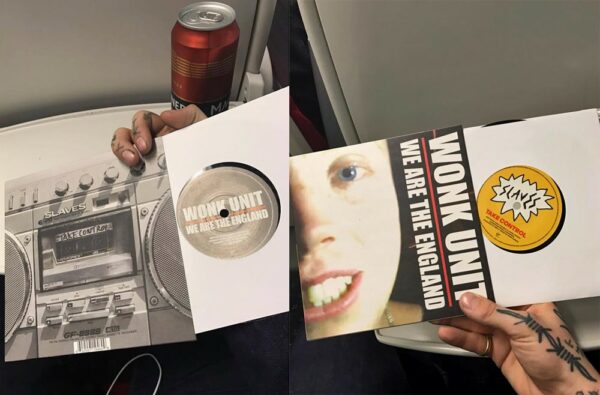 Those lovely chaps the Slaves have released a new single and invited us to join them on the B side, so hot off the new Mr Splashy album, "We are the England" has been released on vinyl.
Slaves are of course the darlings of NME at the moment, so it's got a mention here.  Limited to 1500 copies on Black Vinyl and available in record shops!  There's also a very silly Wonk Unit video for the single.. mostly featuring our great friends Pizza Tramp!  Come and see us on tour over November and December – we'll bring copies of the single with us!
Slaves have released a video for new single 'Take Control', the title track from their new album set to be released on September 30.

This track will be released as a limited 7″ with "We Are The England" by Wonk Unit acting as the B Side.

The video is inspired by the old school vibes of VHS tapes and sees Isaac Holman and Laurie Vincent riding around on a tandem with a boombox.