New 2022: Interview with Alex Wonk on Spotify podcast
The Wonk started life is 1992 when I formed a band called The Flying Medallions. We were young and very dumb. We courted chaos and controversy. Punk was very much dead in the UK at the time. We were super fresh and caught the eye of the mainstream which championed our notoriety until we crashed on tour in 1995. Sadly we lost our bass player Dougie Palompo.

Things got super messy after that. I got sober in 1999.
Wonk formed in around 2006. I hadn't made any music for a while, everything felt so jaded and stale, so done to death, especially punk. Somehow I ended up in a rehearsal room with 2 insanely talented musicians, drummer Mez Clough and guitarist Gavin Kinch. Their playing lifted my songwriting. Suddenly everything sounded uber fresh.
The first 3 songs we ever recorded were Anna, Candy and My Nemesis. We continued to record 3 songs a month which we uploaded to our Myspace page for download until we had enough for our debut album Flying the Japanese flag (versions of this had previously been released as the "Punks are Hard" ep).

Wonk Unit has always been about "me". My songs are my diary. I make music for myself, exactly as I skateboard for myself and draw pictures for myself. I never wanted to force Wonk on anyone as it was such a personal thing to me. My original ethos which still stands to this day is that I would never ask for a gig or review or record deal or endorsement. Wonk only go where we are wanted and appreciated. I never needed the approval of others.
I've been lucky to have had such a rad bunch of idiots join me over the years. Because of our non-stop commitment to touring, our line ups often change. Pwosion (bass) has been our longest-serving member with Kenny on guitar and Vez on keys/vocals.

I'm lucky enough to have Duncan Redmonds waiting in the wings to step in for the odd Wonk gig. Duncan played on our 2nd album Trolleys Thank you. Other notables include Oli Stewart (another Snuff boy) on trombone, my sister Gemma on cello, Jess (from Calva Louise) on guitar/keys and Ed on guitar/keys or trumpet.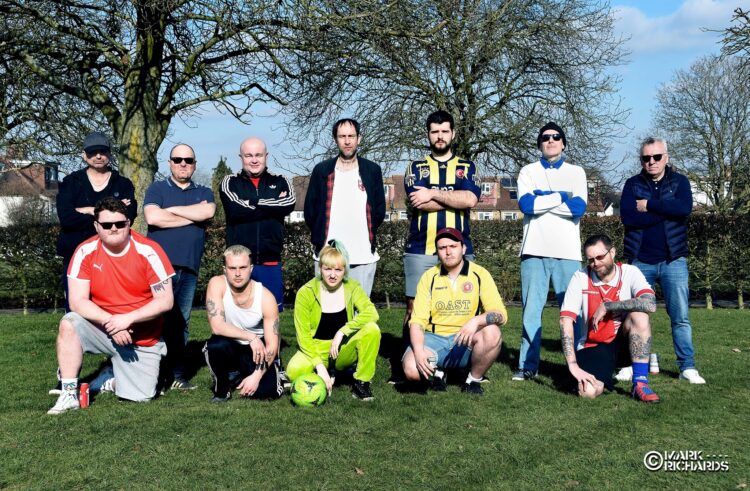 We have released 8 studio albums;

Flying the Japanese Flag 2009
Trolleys Thank you 2011
Muffy 2013
Nervous Racehorse 2014
Pwosion Idea (compilation) 2015
Mr Splashy 2016
Terror 2018
Uncle Daddy 2021
We also have BMX filming legend Mark Richards as our official videographer and photographer.
The Band (core)
Alex 'Daddy' Wonk is the band. He's the creative drive and man behind the band. Lead singer, guitarist (and part time bassist), poet, musician, stage performer and author. Known up and down the land of punk, loved by (nearly) everyone.
Vez – Keys and vocals and some lyrics. Vez is an amazing human being and her vocals have helped lift the recent album to new heights.
Max – Drums. Max has his own hardcore band 'Sid' which blew Alex away.
Pwosion – Bass. UK Parkour champion (in our own twisted minds only), and a leader to many. Been with the band longer than her cares to remember!
AJ – shredding guitar and part time bass, and devistating smile.
Jude – Alex's nephew and absolute stunning musician.
The name Wonk Unit came about like this:-
In 2005 myself and original Wonk axe man Gavin Kinch were laying a crazy paving driveway.
It was miserable,cold and wet,and then it started snowing on our sorry asses, and I looked over and said;
"Look at us,we're a right f**king Wonk Unit aint we!"
"Wonk Unit" we exclaimed.
What a great name for a band.
So there you have it.
A reference to the cold pathetic miserable and depressed.
A description that sums us up perfectly in no way whatsoever
x
See Discography for bands previous releases.