WONKFEST 2023 – VENI VIDI VICI
Yep it's all happening again, you never doubted it did you? North London's biggest punk party with a wonky twist. Loads of info to come and be announced, but you know it's going to be good right! Tickets available now.
THIS WILL BE THE LAST WONKFEST EVER (or for now – we're all going to take a break, but never say never again)
Saturday, July 29, 2023
12 Noon – 11:00 PM (ish)
The Dome, 2A Dartmouth Park HillLondon, NW5 1HL
Keep an eye on the official FB event here.
FINAL LINEUP AND SET-TIMES!!!
B=BOSTON MUSIC ROOM
D=DOME
D-12.25-12.45 Blood slugs
B-12.50-13.10 Skurvi
D-13.15-13.35 Trang Hanske
B-13.40-14.00 Crapsons
D-14.05-14.25 The Getalongers
B-14.30-14.50 Brioche
D-14.55-15.15 Kicked in the teeth
B-15.20-15.40 Wet House
D-15.45-16.05 Hayeminol
B-16.10-16.30 Ming City Rockers
D-16.35-16.55 The Sporadics
B-17.00-17.20 The Raging Nathans
D-17.25-17.45 Aerial Salad
B-17.50-18.10 The Menstrual Cramps
D- 18.15-18.35 Frankie Stubbs
B-18.40-19.00 Killdren
D- 19.05-19.25 Yur Mum
B-19.30-19.50 Fresh Specimen
D-19.55-20.15 Southport
B-20.20-20.40 Tripsun
D- 20.45-21.05 Midway Still
B-21.10-21.30 Kimberly steaks
D- 21.35-21.55 Pizzatramp
B-10.00-10.20 Fluffy Machine
D- 10.25 -Wonk Unit
WONKFEST 2022 – we were back
Yes, that's right – 2022 sees Wonkfest back and better than ever – still at The Dome, and still with its legendary buffet!
The 2022 installment saw us going back to our roots, focusing on friendship, happiness, and fun.
We upped the buffet, upping the sweets, upping the live screen print, upping the craziness, upping all the trimmings. It was about every party you went to and wished you'd had a snog on the cricket square. This is about every party you went to and came home with a load of new mates.
DATE: SATURDAY, JULY 30th.
VENUE: The Dome, Tufnell Park, 2a Dartmouth Park Hill, NW5 1HL London, United Kingdom
PRE WONKFEST GIG – there's also a pre-fest party in South London the day before – Fri 29th July, at the New Cross Inn. FB Event here.
Stage times (subject to change)
D-Dome : B- Boston
11:35-11:55 D Alex Wonk acoustic welcome
12-12.20 B Los Santos
12.25 -12.45 D Sid
12.50-1.10 B System Reset
1.15-1.35 D Parker
1.40-2 B Burnt Tapes
2.05-2.25 B Special guest
2.30-2.50 D Filhos De Ignacio
2.55-3.15 B Fights and Fires
3.20-3.45 D Slobheads
3.50-4.10 B Skiv
4.15-4.35 D Captain Hotknives
4.40-5 B Rash Decision
5.05 -5.25 D Sick Boyz
5.30-5.50 B Yur Mum
5.55-6.15 D Mofgy
6.20-6.40 B Wrong life
6.45-7.05 D Pizzatramp
7.10-7.30 B Jb Conspiracy
7.35-7.55 D pete Bentham
8-8.20 B Incisions
8.25-8.45 D Salad
8.50-9.10 B Spoilers
9.15-9.35 D Riskee
9.40-10 B Waco
10.05-10.35 D Wonk
WONKFEST IS THE PUNK BAND WONK UNIT'S ANNUAL CELEBRATION OF THE UK AND WORLDWIDE UNDERGROUND PUNK SCENE SHOWCASING THE MAJOR PLAYERS COMING OUT OF ALL THE CITIES!
WONKFEST 8 – 2021 CANCELLED
Morning everyone. Ok so here's the bad news, I gotta pull this years Wonkfest. I'm really really sorry. As you know, Wonkfest is a representation of Wonk Unit's year, the bands we meet on our travels. Obviously a lot of our travels have been cancelled so meeting bands and arranging the line up hasn't happened as in the past. About a quarter of our planned line up were due to be in Europe for festival season, not anymore. Everyone is in the same boat with their tours being cancelled. I'm so sorry folks. Tickets will be valid at next years Wonkfest or refunds available from Seetickets. I you have any questions don't hesitate to message. Alex xxx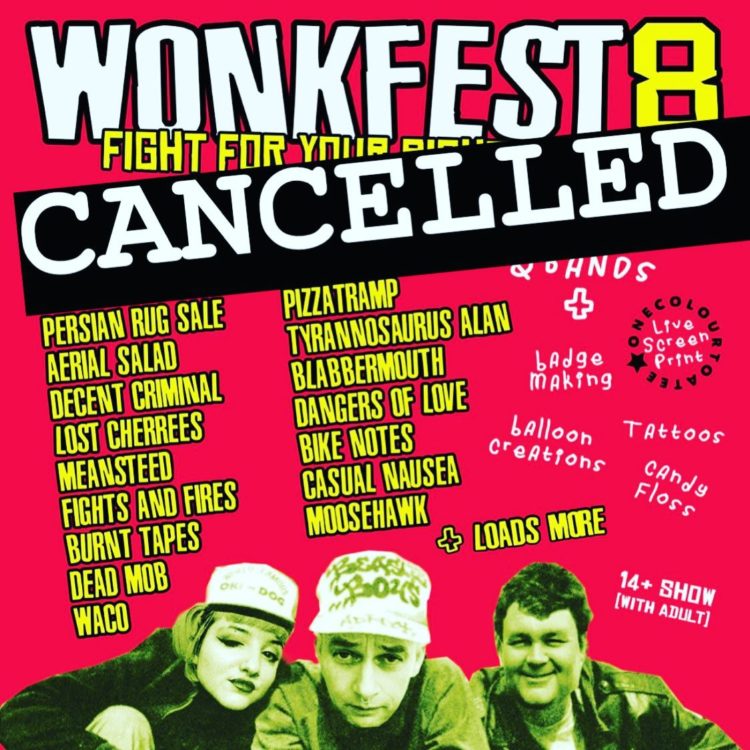 Bands who we wanted to play: –
WONK UNIT
CLCKWS
CROOKED LITTLE SONS
PERSIAN RUG SALE
DECENT CRIMINAL
LOST CHERREES
WACO
FIGHTS AND FIRES
BURNT TAPES
DEAD MOB.
AERIAL SALAD
KIMBERLY STEAKS
RAW POO
PIZZATRAMP
TYRANNOSAURUS ALAN
DANGERS OF LOVE
BIKE NOTES
CASUAL NAUSEA
MOOSEHAWK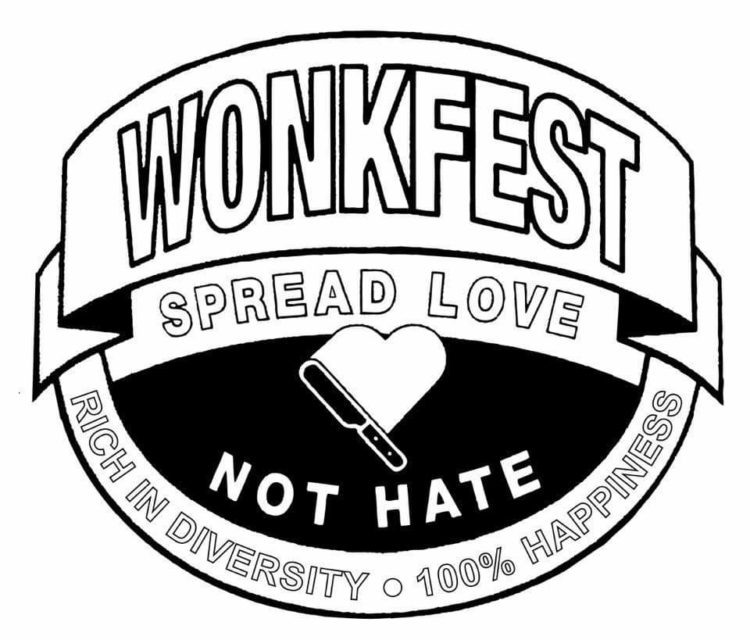 ---
WONKFEST 7 – Viva la Revolution!
The 2019 Wonkfest was a BLAST! Thanks to everyone who played and who came and made it special!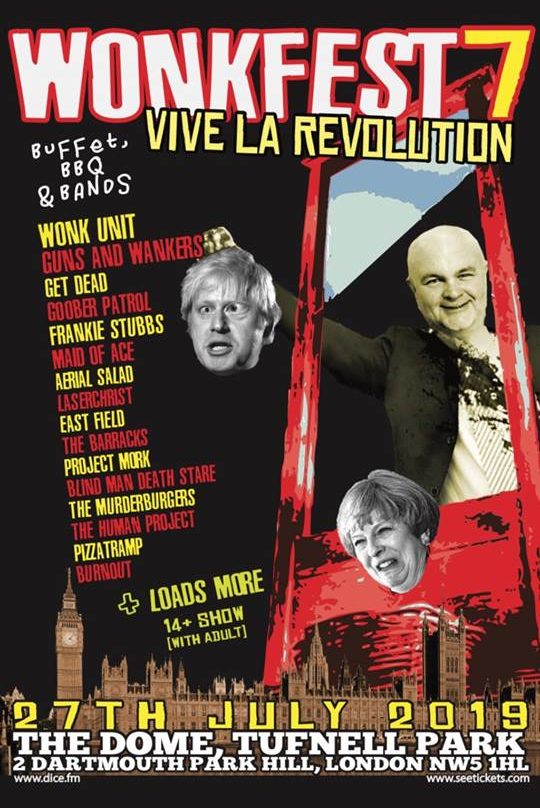 IT'S WONKFEST, it's the funniest, craziest day in the punk rock calendar. The best in music, the best atmosphere, the best in people.
Am so happy to announce 2 of the most influential artists in punk rock history. Duncan Redmonds's Guns and Wankers and the incredible songwriter Mr Frankie Stubbs himself.
I always wanted this to be my "history" line up and it's turning out to be that. The bands and people that help shape my life.
The line up is complete but we won't be dropping bombs on you ever week. It's 6 months till July 27th.
We've got UK exclusives, we've got secret acts (to avoid booking agent red tape) we've got the regular Wonk family royalty whose absence would be a sin. We've got new bands, we've got buffet, T shirt screening, badge making, BBQ, all included in the price of a ticket.
We'll be collecting again for the local charity most in need of donations. In recent years Hestia (a women's refuge charity).
Please grab advance tickets ASAP. It really does help with the financial worry of staging an event like Wonkfest.
Thanks darlings! Love you all. Maybe this year we can escape without broken bones haha (that'll be a first eh)
Venue was: The Dome, Tufnell Park, 2a Dartmouth Park Hill, NW5 1HL London, United Kingdom
Wonkfest 7 The Line-up WAS
African vegetables 11.30-11.50
The Barracks. 12-12-20
Project Mork 12.30-12.50
Beverly kills 1-1.20
Laserchrist 1.30-150
2 peas from the pod 2-2.20
Burnout 2.30-2.50
East field 3-3.20
Youth killed it 3.30-3.50
The Dub righters 4 -4.20
Secret guests 4.30-4.50
Frankie 5-5.20
Get dead 5.30-5.50
Goober patrol 6-6.20
Special guests 6.30-6.50
Secret guests 7-7.20
Aerial Salad 7.30-7.50
8-8.20 the Murderburger
8.30-8.50 Guns and wankers
Pizzatramp 9-9.20
Hardskin 9.30-9.50
Maid of ace 10-10.20
Wonk Unit 10.30-11 close
Wonkfest 7 – 2019 TICKETS HERE
WONKFEST 2018 – THANKS FOR THE FUN!
WHAT A DAY! THANK YOU EVERYONE WHO CAME, PLAYED, DANCED, ATE, DRANK, and HAD FUN!
Definition

: London's biggest DIY Punk festival. BANGER!

Wonkfest!!! Definitely once again was the party of the year! The celebration of all things positive in our punk rock community. The biggest feast, the best bands, the most smiles. The day when we leave all our frustrations with the world at home and come PAAAAAAARTY!!! x
Hooray!!!
Hosted by Wonk Unit, this is punk rock 2018, our year, our friends. The nice folk we met on the way.

Venue: The Dome, Tufnell Park, 2 Dartmouth Park Hill, NW5 1HL London, United Kingdom
The Date: Saturday, 28 July 2018 at 11:00–23:00

Make sure you follow the Facebook event page for all the updates!

Did we mention food? Hell yeah!!! This Wonkfest we'll be upping the ante and doubling the deeeeeelicious!!! 2 BBQ's this time, one dedicated exclusively to your veggie/vegan cravings! We'll be bringing the buffet downstairs to the courtyard too, leaving the upstairs space for the lovely Leon and his "live" screen print.
You know how it works by now, bring something for the buffet and foodbank (Womens sanitary products again please) and we'll supply the good time Kentucky bbq grilling, the screenprint and the music!!
Wonkfest is such a rad day. It's more than just about the music, it's about all of us, you guys, our family.
You really are a decent bunch. Love you all very much.xx

LINE-UP INCLUDED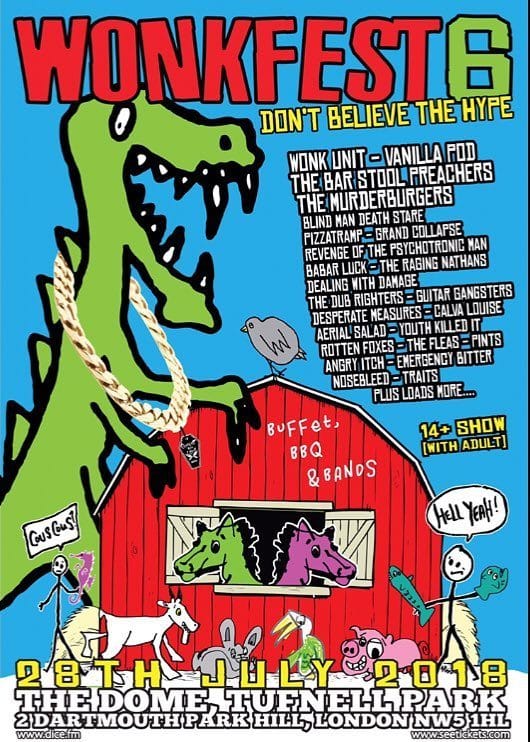 Wonk Unit
Vanilla Pod
The Bar Stool Preachers
The Murderburgers
Blind Man Death Stare
Pizzatramp
Grand Collapse
Revenge of the psychotronic man
Babar Luck
The Raging Nathans
Unwanted Consumer
Dealing with Damage
The Dub Righters
Guitar Gangsters
Desperate Measures
Calva Louise
Aerial Salad
Fights and Fires
Youth killed it
Rotten Foxes
The Flees
Pints
Angry Itch
Emergency Bitter
Nosebleed
Traits
SEE 2017's WONKFEST 5 VIDEO BY MARK RICHARDS!