WONKFEST 7 – Viva la Revolution!
Wonkfest 7 – 2019 TICKETS HERE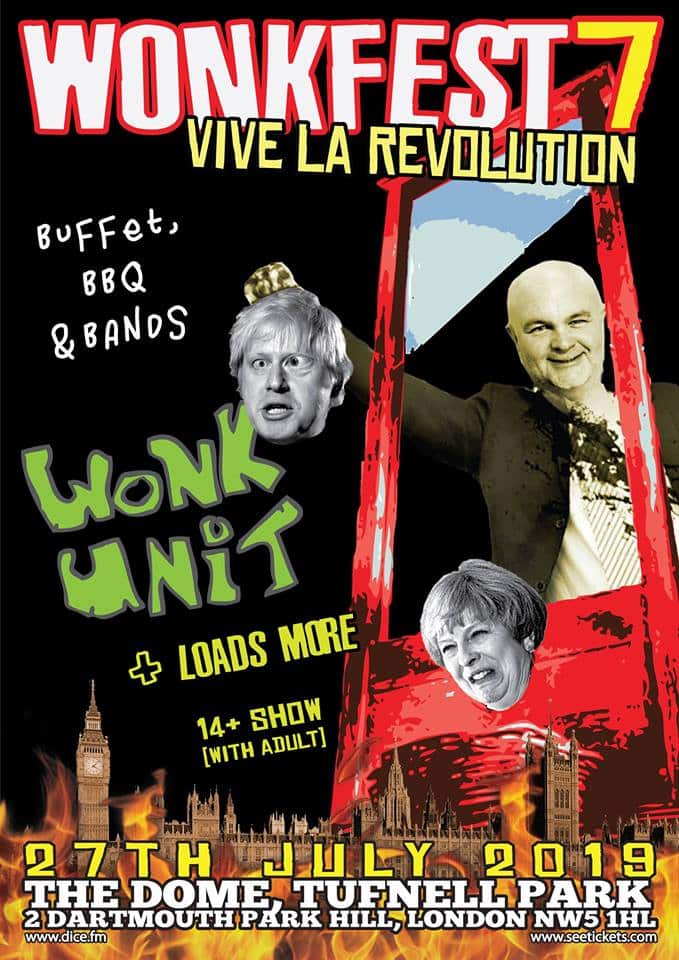 YESSSSS!  It'a happening again – once again at the Dome in Tufnell Park – Wonkfest 7 will be on Saturday 27th July 2019.
Venue:  The Dome, Tufnell Park, 2a Dartmouth Park Hill, NW5 1HL London, United Kingdom
Facebook event page here if you want to join in the fun.
Wonkfest Band Line-up
GUNS n WANKERS!
MORE TO BE ANNOUNCED OBVIOUSLY!
Wonkfest 7 – 2019 TICKETS HERE
WONKFEST 2018 – THANKS FOR THE FUN!
WHAT A DAY!  THANK YOU EVERYONE WHO CAME, PLAYED, DANCED, ATE, DRANK, and HAD FUN!
Definition

:  London's biggest DIY Punk festival.   BANGER!

Wonkfest!!! Definitely once again was the party of the year! The celebration of all things positive in our punk rock community. The biggest feast, the best bands, the most smiles.  The day when we leave all our frustrations with the world at home and come PAAAAAAARTY!!! x
Hooray!!!
Hosted by Wonk Unit, this is punk rock 2018, our year, our friends.  The nice folk we met on the way.

Venue:  The Dome, Tufnell Park, 2 Dartmouth Park Hill, NW5 1HL London, United Kingdom
The Date:  Saturday, 28 July 2018 at 11:00–23:00

Make sure you follow the Facebook event page for all the updates!

Did we mention food? Hell yeah!!! This Wonkfest we'll be upping the ante and doubling the deeeeeelicious!!! 2 BBQ's this time, one dedicated exclusively to your veggie/vegan cravings! We'll be bringing the buffet downstairs to the courtyard too, leaving the upstairs space for the lovely Leon and his "live" screen print.
You know how it works by now, bring something for the buffet and foodbank (Womens sanitary products again please) and we'll supply the good time Kentucky bbq grilling, the screenprint and the music!!
Wonkfest is such a rad day. It's more than just about the music, it's about all of us, you guys, our family.
You really are a decent bunch. Love you all very much.xx

LINE-UP INCLUDED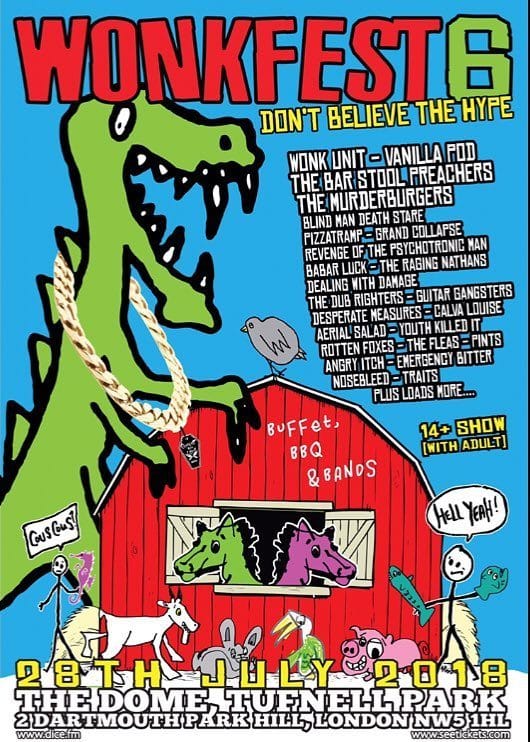 Wonk Unit
Vanilla Pod
The Bar Stool Preachers
The Murderburgers
Blind Man Death Stare
Pizzatramp
Grand Collapse
Revenge of the psychotronic man
Babar Luck
The Raging Nathans
Unwanted Consumer
Dealing with Damage
The Dub Righters
Guitar Gangsters
Desperate Measures
Calva Louise
Aerial Salad
Fights and Fires
Youth killed it
Rotten Foxes
The Flees
Pints
Angry Itch
Emergency Bitter
Nosebleed
Traits 
SEE 2017's WONKFEST 5 VIDEO BY MARK RICHARDS!