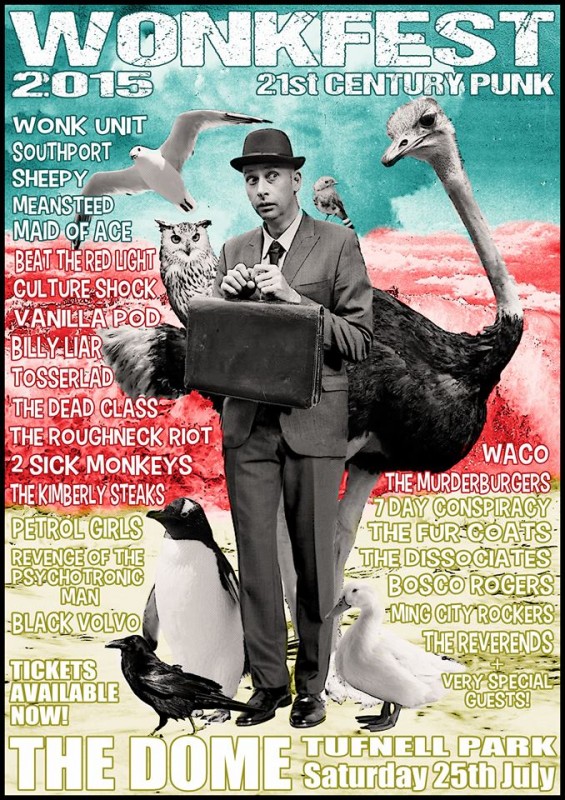 So stoked that Wonkfest is finally here – 26 bands, all killer no filler!
Old friends and new are welcome, remember to bring something for the mega buffet!
Bring your sexy friends, there will be tickets on the door – or buy em now, there's still time (print out the eTicket and bring it along with you).
MEGA EXCITED – SEE YOU ALL TOMORROW.  weeeeeeeeeeeeeeeeeeeeeeeeeeeeeeeeeeeeeeeee!
INFO
TUBE STATION CLOSED:  Remember the Tuffnel Park tube station is CLOSED.  So you'll need to get off/on at Archway or Kentish Town and walk for 10 mins or so.
OK STAGE TIMES!!! THIS IS AS NEAR TO ACCURATE THAT WE ARE GONNA GET!!!
THE BOSTON ARMS STAGE
12.00 THE DISSOCIATES
12.50 THE FUR COATS
13.40 BOSCO ROGERS
14.30 MEANSTEED
15.20 SHEEPY
16.10 BILLY LIAR
17.00 SIMON WELLS/SOUTHPORT
17.50 MAID OF ACE
18.40 2 SICK MONKEYS
19.30 BEAT THE RED LIGHT
20.20 WACO
21.10 THE MURDERBURGERS
23.00 CULTURE SHOCK
THE DOME STAGE
11.35 BRIGANTES
12.25 BLACK VOLVO
13.15 TOSSERLAD
14.05 7DC
14.55 THE REVERENDS
15.45 ROTPM
16,35 PETROL GIRLS
17.25 KIMBERLY STEAKS
18.15 VANILLA POD
19.05 MING CITY ROCKERS
19.55 THE DEAD CLASS
20.45 THE ROUGHNECK RIOT
21.35 SLAVINKO WARRIORS
22.15 WONK UNIT