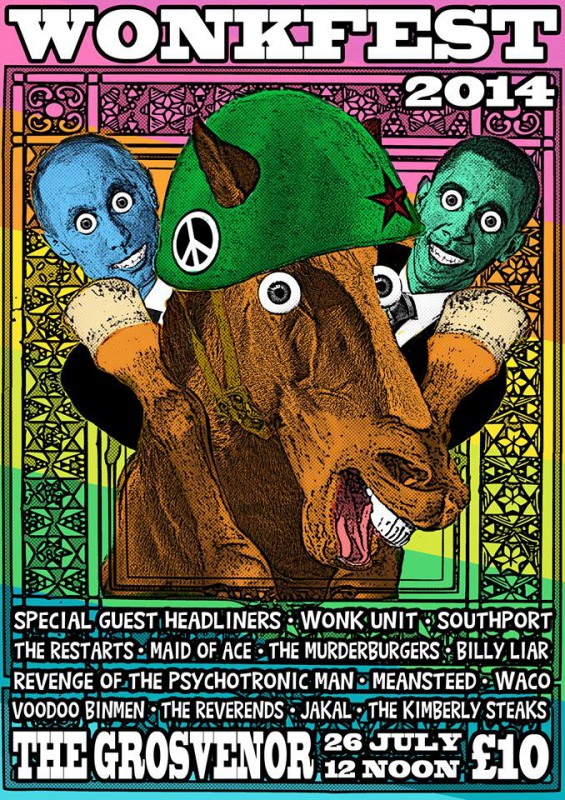 July 26th, Hundreds of punks flock to the The Grosvenor in it's last weekend 🙁 for another historic day and night of good times.  Bands, mayhem, buffet and good times were shared by all.
10.00 – WONK UNIT
9.10- HARD SKIN
8.20- THE MURDERBURGERS
7.40 – MEANSTEED
7.00- REVENGE OF THE PSYCHOTRONIC MAN
6.20 – THE REVERENDS
5.30 – THE RESTARTS
4.50- KIMBERLY STEAKS
4.10 – JAKAL
3.30 – BILLY LIAR
2.50 – MAID OF ACE
2.10 – VOODOO BINMEN
1.30 – WACO
Thank you!  
My brain is fried but that was just the craziest fun day ever!!
All the bands, John and all the staff at the Grosvenor, Mark Richards and Julian Wallinger for filming, Dee for doing an amazing job with sound all day, Georgie Boy, Orange Juice and Lucy for stage and door management, man, you lot are all so brill and lovely!! Fuckin hell, and all our buffet monitors!!! OMG!! Wonk Cake creators and general wonderful people Clare Corbett with loving husband in tow Big Albo!!! I love you all!! Biggest bunch of Wonkers i know youz lot are!! Every band just blasted it! Totally fucking destroyed!!!!! Weeeeeeeeeeeeeeeeeeeee!!!
All my lovely crazy friends that traveled down and brought food and smashed themselves to pieces and are just the best people!! You don't know how honoured you make me feel! Thank you all for a brilliant day!!! I love you all millions!!! xxxx