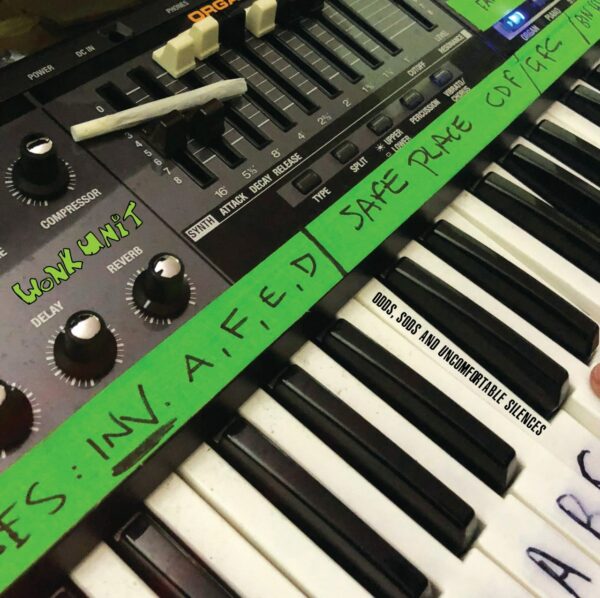 Record Store Day Exclusive Launch
Hot on the heels of the recently released live Wonk Unit album "Love in Chapan" comes … another new album!!   The brand new "Odds, Sods and Uncomfortable Silences" album is about to be released on PINK VINYL.  It's a collection of never heard songs, unreleased rarities and Wonky oddities for your listening pleasure.
The album is being released exclusively for Record Store Day which is Saturday 13th April.  RSD is for indie stores to have a shot at selling exclusive vinyl before digital/online people get hold of it, so you won't even be able to get it here until some time after that date, it's a great way for bands like Wonk Unit to support those great shops still selling music to punks like you!
A Favour Asked…
Now to help spread the word and try and get this record in the shops around the UK for "Record Store Day" on the 13th April, Wonk Unit would love our fans (that's you that is) to wander into your lovely local independent record shops asap, and ask them if they will be stocking the new RSD exclusive release "Odds, Sods and Uncomfortable Silences" pink vinyl by Wonk Unit.  If they ask more details, you could suggest they can be ordered from Cadiz Music (via Universal) and share these e-mail addresses so they can order copies; [email protected] & [email protected].
I'm sure you all agree it's time more people got the chance to see and hear a bit of Wonk Unit, and this album could be a nice little starter course, plus we all need to help support our local record stores!
If you want to know more about Record Store Day – and maybe find a local store to visit, check out the RSD website.
Cheers, Krispy aka the Wonk Webmaster for Alex.  
Odds, Sods and Uncomfortable Silences; Track List
Side A: 1. Take Me Out To Dinner / 2. Hermitage Rd / 3. Wondrous Girl / 4. Candy / 5. Bailey / 6. Mistake / 7. Anna / 8. Springtime.
Side B: 1. My Nemesis / 2. Rocky The Dog / 3. The Ghoul / 4. Poem For Saturday / 5. She Was Good / 6. Mr Recovery / 7. We Came Together