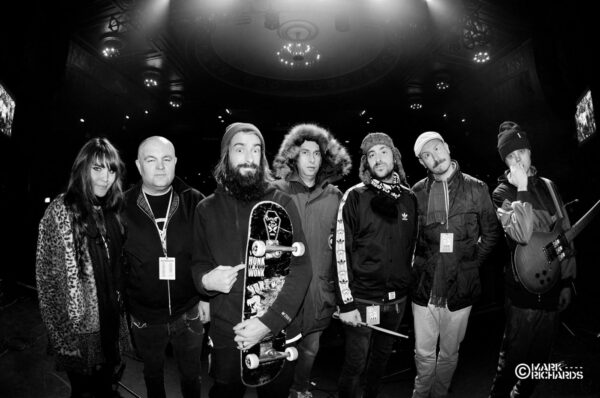 Weeeeeee Wonk Unit will be doing a small German tour in September 2016, and we hope to make many new friends.
21.09.16
D-Aachen, Musikbunker
22.09.16
D-Essen, Anyway (unplugged)
23.09.16
D-Hamburg, Menschenzoo
24.09.16
D-Arpke, Hinterhof
27.09.16
D-Dresden, Chemiefabrik
28.09.16
D-Berlin, Schokoladen
29.09.16
D-Braunschweig, Funzel
30.09.16
D-Oettingen, Goldene Gans
01.10.16
D-Karlsruhe, Alte Hackerei
Alex Wonk, Gründer von Wonk Unit spielte in den 1990er Jahren in der Hardcore-Punk Band The Flying Medaillons , welche fester Bestandteil der englischen UK Underground Szene war, bis die Band einen schweren Unfall mit Todesfolge in Frankreich hatte.
Sie lösten sich auf und kurz darauf wurde WONK UNIT ins Leben gerufen.
WONK UNIT bezeichnen ihren Sound als neuen frischen Punk, der sich irgendwo bei Millencolin einreihen kann und immer wieder auch Ska Elemente hören lässt. Auf der Bühne wird Alex zur Dampfwalze und zelebriert ein Feuerwerk voller Energie, Wut und Ironie.
Die Band schafft es, einen eigenen musikalischen Weg zu gehen und ecken gerne auch öfters Mal mit ihrem Sound an.
Bekanntheit erlangte die Londoner Band in letzter Zeit unter anderem durch eine gemeinsame UK Tour mit Teenage Bottlerock und Shows mit Millencolin. Auch das alljährlich stattfindende Wonk Fest gehört inzwischen zum festen Bestandteil der Band, auf welchem Jahr für Jahr befreundete Bands und natürlich auch Wonk Unit auftreten und Jahr für Jahr ausverkauft ist.
Kurz und knapp kann man sagen:
Wonk Unit sind aktuell eine der vielseitigsten und abwechslungsreichsten Bands, die London zu bieten hat. Sie machen Spaß, sind sehr poetisch und absolut authentisch. Alles in allem muss man die Band einfach live gesehen haben.