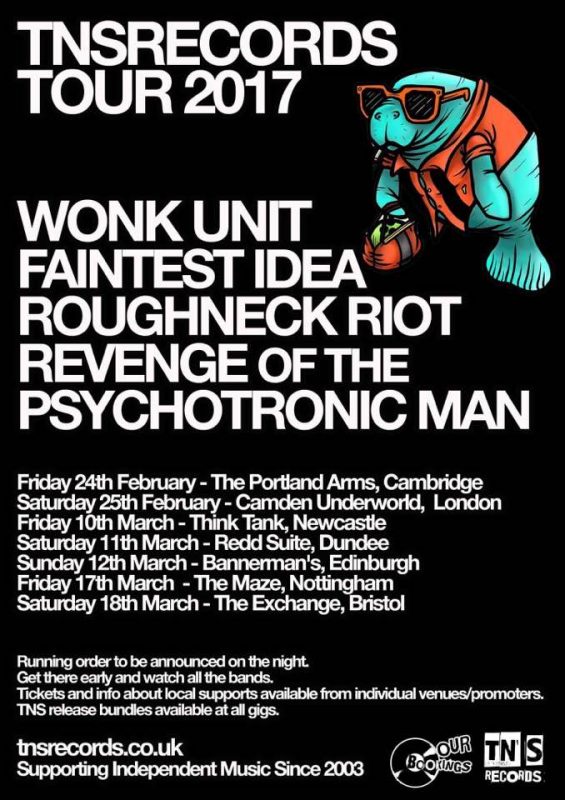 TOUR!!!!!! TNS ROADSHOW JUST LIKE THE SPICE GIRLS! AMAZING!!
Friday 24th February – The Portland Arms, Cambridge
https://www.facebook.com/events/1825488631063213/
Saturday 25th February – Camden Underworld, London
https://www.facebook.com/events/1684104831615335/
Sunday 26th February – The Brewhouse, Warrington (No Faintest Idea)
https://www.facebook.com/events/1308449272556093/
Friday 3rd March – Cellar Bar, Stafford (No Roughneck Riot)
https://www.facebook.com/events/1127532850694115/?notif_t=plan_user_invited&notif_id=1481658883168977
Saturday 4th March – The Underground, Plymouth (No Wonk Unit/Roughneck Riot)
https://www.facebook.com/events/178695369265380?%3Fti=ia
Sunday 5th March – The Wheatsheaf, Banbury (No Roughneck Riot)
https://www.facebook.com/events/172164233258104/172171829924011/?notif_t=like&notif_id=1481727313626722
Friday 10th March – Think Tank, Newcastle
https://www.facebook.com/events/1372985549399613/
Saturday 11th March – Redd Suite, Dundee
https://www.facebook.com/events/1841004949475823/
Sunday 12th March – Bannerman's, Edinburgh
https://www.facebook.com/events/1652172605094198/
Friday 17th March – The Maze, Nottingham
https://www.facebook.com/events/292805051114695/
Saturday 18th March – The Exchange, Bristol
https://www.facebook.com/events/1107345489385683/
http://www.exchangebristol.com/whats-on/events/18-mar-17-fishstock-2017-exchange/

In the spirit of the DIY scene, we won't be announcing the running orders of the gigs until the night of the event. We want to encourage crowds to check out bands they may already love and bands they may be less familiar with. TNS believes in supporting gigs from the start to the finish and checking out new music wherever possible.
Here is an introduction to the bands on the TNS tour:
Faintest Idea are a band who featured on TNSrecords' very first release, which was a 20 track compilation CD. They have since released three fantastic full length albums. This years 'Increasing The Minimum Rage' is probably their best to date. They bring together infectious two-tone ska and politically fuelled street punk and are guaranteed to have you dancing. They are truly establishing themselves as one of the most exciting ska bands around.
Roughneck Riot have built a reputation as one of Europes finest live acts after relentlessly touring for the past few years. With a banjo, a mandolin and an accordion alongside your traditional punk instruments, they have really nailed the folk-punk sound and they will blast out a set list which offers one infectious anthem after another.
Wonk Unit are one of the most exciting bands in punk rock right now. Fresh from touring with Slaves, they are beginning to fill venues across Europe and the USA at their own headline gigs. They offer a truly eclectic sound that borrows from indie, punk and ska and much, much more. Their 2016 'Mr Splashy' album is getting rave reviews from the underground press and more mainstream publications. They also host 'Wonk Fest', which is one of the highlights of the punk rock calendar.
Revenge Of The Psychotronic Man play fast… very fast. Bassist, Andy co-runs TNS and like Faintest Idea they featured on the very first compilation and have released three critically acclaimed albums on the label. These including this years Alan Partridge referencing 'Colossal Velocity'. You can expect human pyramids, walls of death and wheelbarrow walls of death. The possibilities are endless.
We hope you are as excited by this lineup as we are. We truly believe that these are four of the most exciting bands in the UK right now and we hope you can make it out to see some of these dates. We have many more awesome bands on the label and hope that this will be the start of many more TNS tours.
Tickets and info about local supports available from individual venues/promoters. We will post the individual events as soon as we have them.
TNS release bundles will be available at all gigs.