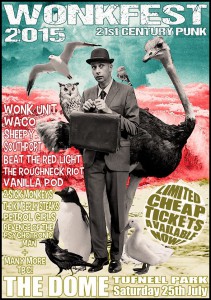 WONKFEST
July 25, 2015
London
Details
Time : 11am
Venue : The Dome, TUFNELL PARK
Address : 2 Dartmouth Park Hill, NW5 1HL, London
Zip : NW5 1HL

http://www.dometufnellpark.co.uk/listings/events/25-jul-15-wonkfest-2015-the-dome/

IT'S WONKFEST!!
PUT IT IN YOUR DIARY. THIS IS GONNA BE THE MOST INSANE 12 HOURS THE UK PUNK SCENE HAS EVER SEEN. GONNA BE FUCKIN CARNAGE!!!!!!
MILLIONS OF SHIT HOT BANDS BLASTING ALL THEIR BEST SHIT IN 20 MINS SLOTS. TOTAL BONKERS! THIS IS THE BOLLOX!!!
GET IN EARLY, BRING A TENT, STAY ALL DAY, GET LAID,EAT AND DRINK!
OUR BUFFET IS GONNA BE MENTAL! THE RADDEST VEGAN,VEGETARIAN AND JUICEY FLESH FILLED TREATS KNOWN TO MAN!!
AND GUESS WHAT, WE'VE BULLIED THE MURDERBURGERS INTO RUNNING "THE MURDERBURGER BBQ". MMMMM MMMM DEEEELICIOUS BURGERS FOR ALL!!! AS WELL AS BUFFET!!!!! AHHHHHHHHHHHHHHHHHHHH!!

WONKFEST IS A CELEBRATION OF ANOTHER HAPPY WONKY YEAR FOR FRIENDS AND FANS.
THE BANDS WHO PLAY ARE THE SILLY CHAPS WHO HAVE BEEN IMPORTANT TO US THROUGHOUT THAT YEAR.
HOORAY!!!
SUPER STOKED TO ANNOUNCE WE ARE DOING THIS AT THE DOME IN TUFNELL PARK!!!! OLD SCHOOL CHAOS!!!!
WE ARE GOING BIG FOR THIS ONE!!!! CARNAGE PIT!!!! ARRRRRRRRRRRGH! GRAB TICKETS BEFORE THEY ARE GONE!
WE ARE GROWING THE WONKFEST! LET'S SCARE THE AUTHORITIES! HAHAHAAH

The best, most exciting punk rock in the land!
So exciting that we aint even allowed to announce some of the acts lined up!! OMG!
Short sets, exciting music, nice people,
Wonkfest is about love and acceptance,
about diversity and tolerance.
About being nice to your neighbours and baking ya granny a cake.
It's a day of peace.
IT'S THE DAY OF THE BUFFET
THE WONK FAMILY WELCOME YOU WITH OPEN ARMS AND SMILES!
HOORAY!!!!

Running order (subject to change)

Culture Shock 11.00 – finish
WONK UNIT 10.15 – 10.55
Special Guests 9.35 – 10.00
The Murderburgers 9.10 – 9.35
The Roughneck riot 8.45 – 9.10
Waco 8.20 – 8.45
The Dead Class 7.55 – 8.20
Beat the Red light 7.30 – 7.55
Ming City Rockers 7.05 – 7.30
2 Sick Monkeys 6.40 – 7.05
Vanilla Pod 6.15 -6.40
Maid of Ace 5.50 – 6.15
The Kimberley Steaks 5.25 – 5.50
Southport 5.00 – 5.25
Sheepy 4.35 – 5.00
Billy Liar 4.10 – 4.35
Revenge of the Psychotronic man 3.45 – 4.10
Petrol Girls 3.20 – 3.45
The Reverends 2.55 – 3.20
Meansteed 2.30 – 2.55
7 Day Conspiracy 2.05 – 2.30
Bosco Rogers 1.40 – 2.05
Tosserlad 1.15 – 1.40
The Fur Coats 12.50 – 1.15
Black Volvo 12.25 – 12.50
The Dissociates 12.00 – 12.25
Doors 11 am x

THIS GIG WE ARE GONNA BE HIGHLIGHTING THE PLIGHT OF BEES.
Basically they are up shit creek and they need our help! So this gig is gonna be a Bee awareness gig too!
You can find some information below
To get a really good picture of things, watch 'The vanishing of the bees' and 'more than just honey' really amazing eye openers to just how bad things are. Also for more of a general picture, 'Food inc' is one to watch.
In short, bee species are going extinct, our honeybees have halved in the last 25 years, and the main contributor are pesticides (particulary the neonic). Its down to massive corruption of the governments and their partnerships with the big chemical companies. Also lack of flowers, (mainly wildflowers).
Here is the latest on the neonic scandal (straight from a scientist) – second link down – http://www.soilassociation.org/conferences/2014conference/day1
Any publicity for our project would be amazing – we put communally run hives around bristol so that people can learn beekepeing, and promote natural beekeeping and general sustainability. We also do mentoring, educational talks etc.
http://heathershoneybees.wordpress.com/
http://www.soilassociation.org/wildlife/bees?gclid=Cj0KEQjwtvihBRCd8fyrtfHRlJEBEiQAQcubtOaQJ17kO9rmTd_9z9fNzPm6xI7HSAR4azuIHZxNBewaArl98P8HAQ
@SoilAssociation annual conference, 08-09 October 2014, Swindon
www.soilassociation.org