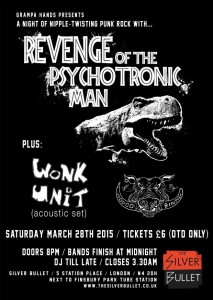 Wonk Unit + Revenge of the Psychotronic Man, Voodoo Binmen
March 28, 2015
London
Grampa Hands presents a night of nipple-twisting punk rock, headlined by Mancunian speed-punk nutjobs Revenge of the Psychotronic Man. Doors open at 8pm, tickets are £6 (available on the door only). 18+. Bands finish at midnight, with DJ Bolter spinning some old-school rock 'n' roll classics till 3.30am.
REVENGE OF THE PSYCHOTRONIC MAN
Formed in 2004, Manchester's Revenge of the Psychotronic Man play an exceptionally fast and aggressive brand of punk rock. Tinged with elements of hardcore and streetpunk, they sing about everything from human stupidity and the farcical society we live in, right through to getting pissed and hating the sea. In the decade-plus they've been around, they've supported the likes of Bad Religion, Discharge, Nomeansno, Smoke or Fire, The Queers and The Briefs, and guitarist/vocalist Matt also had a stint playing drums in English Dogs. In 2013 the band recorded a session at Maida Vale for Mike Davies' now-defunct radio show The Lock Up, otherwise known as the BBC Radio 1 Punk Show. They later released the session on 7″ vinyl via Andy Psychotronic's very own TNSrecords. They were also played that year by Steve Lamacq on BBC 6 Music, with Lamacq picking a Revenge track as one of his five choices for a limited edition vinyl given out at the AIM Independent Music Awards.
http://www.revengeofthepsychotronicman.com/
https://www.facebook.com/RevengeofthePsychotronicMan
http://revengeofthepsychotronicman.bandcamp.com/
THE VOODOO BINMEN
Two amazing idiots from London who make as much noise and go as mental as they possibly can. They regularly hurt, disgust and embarrass themselves all at once. Perhaps best described as a more melodic and slightly more pornographic version of Fugazi, the only way this band could get any better is if deceased TV prankster Jeremy Beadle joined them on stage to play bass. Quite frankly, if you like punk rock and 'You've Been Framed', then this is your band.
http://on.fb.me/1u0Xji4
https://soundcloud.com/thevoodoobinmen
WONK UNIT ACOUSTIC
London's premier equine musical ensemble, Wonk Unit, are led by lead singer, chief songwriter and punk rock silly chap, Alex Wonk. They've supported the likes of GBH, the UK Subs and The Queers, and occasionally host Snuff's Duncan Redmonds on drums (Redmonds even took to the drum-stool for their second full-length studio album, 'Trolleys Thank You / Wonk Unit Saved My Life', released in 2013. As the band unplug for this intimate acoustic performance, expect stripped-down versions of songs about sodomy-loving posh bullying cunts on the King's Road, horses, and a few ditties about doing the sex with ladies.