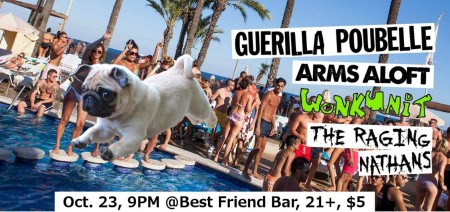 Wonk Unit, The Raging Nathans, Guerilla Poubelle, Arms Aloft.
October 23, 2015
Lexington, USA
Details

Venue : Best Friend Bar
Address : 500 East Euclid Avenue, Lexington, KY, US

We are touring the USA – catch us in one of our shows!

International punk show at Best Friend Bar! $5, 21+

Arms Aloft (Eau Claire, WI) – Crazy good high-energy midwestern pop-punk. Pair with tall boys and fist pumps.
https://armsaloft.bandcamp.com/album/sawdust-city

Guerilla Poubelle (Paris, France) – Melodic French punkrock. Gritty and catchy. Sing-a-long without actually knowing the words, it's fine.
https://guerillapoubelle.bandcamp.com/album/amor-fati

WONK UNIT (London, England) – UK skate/pop punk. These guys are insane and sound like Millencolin, which I googled to see if anyone else has made that comparison and it turns out they just toured with Millencolin. Neat.
https://wonk-unit.bandcamp.com/album/nervous-racehorse

The Raging Nathans (Dayton, OH) – Our best friends in the world. Fast and melodic pop-punk. That's all you need. They're also very attractive, physically.
https://radgirlfriendrecords.bandcamp.com/album/the-raging-nathans-losing-it.