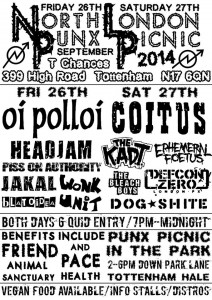 Wonk + loads
September 27, 2014
London, ENG
Details
Time : 7pm
Venue : T.Chances
Address : T.Chances, 399 High Road, N17 6QN, London
Zip : N17 6QN

Wonk Unit at North London Punx Picnic – appearing 27th September

2014's edition of the North London Punx Picnic 6 quid in each day to cover costs and for FRIEND Animal Sanctuary & Pace Health.

Confirmed:
Coitus
Oi Polloi 
Jakal
Headjam
Wonk Unit 
KADT
Ephemeral Foetus
Piss on Authority
Bleach Boys
Blatoidea
Dogshite
Defcon Zero

.
We will also plan some form of picnic/free day time event for the 27th nearer the time. Watch this space!