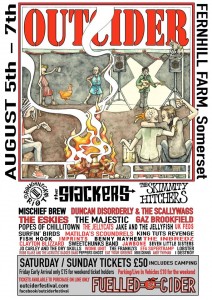 Outcider Festival
August 7, 2016
, Somerset
Details

Venue : Outcider Festival
Address : Fernhill Farm, Compton Martin
State : Somerset
Zip : BS40 6LD

Outcider Festival is now in its 3rd year of bringing great music, fantastic ciders and a beautiful atmosphere to a small gathering of like-minded people at Fernhill Farm in Somerset.

No hipsters, no tossers, no tribute bands, no Carling lager.

The 2016 line-up is to be announced shortly so please join our Facebook page for updates. And while you are there have a look back through the photos and reviews from 2014 and 2015 to see why this is the best little festival in the West Country…

WONK UNIT player 7th August.

The full line-up for Outcider Festival 2016 is now officially announced and we hope you will agree that it's an absolute cracker!

Please raise your cider jars and welcome… The Slackers, The Skimmity Hitchers, The Roughneck Riot, Mischief Brew, Duncan Disorderly & the Scallywags, Gaz Brookfield, The Eskies, The Majestic, Popes of Chillitown,The Jellycats, UKFeds, WONK UNIT, Jake & The Jellyfish, Matilda's Scoundrels, Seven Little Sisters, King Tuts Revenge, The Surfin' Birds,Imprints, The Sweetchunks Band, Fish Hook, Clayton Blizzard, The Inbredz, Benny Mayhem (Solo), Jo Carley and The Old Dry Skulls, The Franklys, Efa Supertramp, Jawbone Music, Lobster Music, IDestroy,Pepper's Ghost, Eat Your Greens, The Acrustic Badger Band, Andy Twyman Fan Page and Mike Dennis. Phew!

Please like and share this post to encourage your friends and like-minded people to come along and sample the unique Outcider atmosphere. We are limited to 500 people and anticipating a sell-out so don't miss out!

Tickets on sale now! http://fuelledby.bigcartel.com/products

We can't wait to open the farm gates and get crazy with you on August 5th!