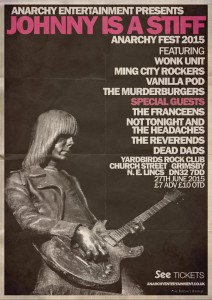 Wonk Unit, Ming City Rockers, The Reverends + more
June 27, 2015
Grimsby
Details
Time : 5pm
Venue : The Yardbirds
Address : Church St, DN32 7DD, Grimsby, North East Lincolnshire

PERFORMING: Wonk Unit, Ming City Rockers, Vanilla Pod, The Murderburgers and The Reverends
WONK UNIT – "They're Fun, weird, poetic and utterly compelling all at once, a must see."- Art Rocker. "Arguably the future of punk rock!"- Louder than War
www.wonk-unit.bandcamp.com

Ming City Rockers – Need no introduction round these here parts!.. "One of 2014's most exciting new bands and debut albums. A magnificent racket." – 8/10 Classic Rock
www.soundcloud.com/mingcityrockers

The Reverends – Unashamedly old school punk that's hard hitting, honest, and in your face with a fast growing reputation for catchy songs that tell the world exactly how it is.
www.thereverends.co.uk

The Franceens – Garage punk with 50s rock 'n' roll; This makes for a ferocious hybrid with a dark underbelly and fierce live shows.
www.thefranceens.co.uk

Dead Dads – Grimsby's very own, no nonsense punk rock.
www.deaddads.co.uk

Ticket info; £7 Adv ticket & poster – £10 Otd

Souvenir tickets and posters will be available soon at £7;
Solid Entertainments / Replay Records Grimsby

Doors 5pm Show starts at 6.00pm….Don't be late -;)

Please help spread the word by liking our page and event, invite you're friends and share the hell out off it!!!