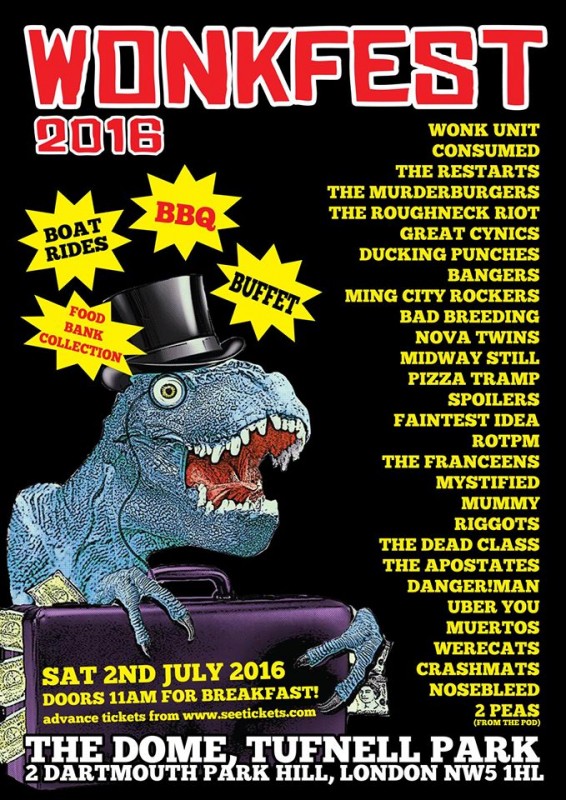 WONKFEST 2016 – Saturday 2nd July!
for tickets – http://www.seetickets.com/event/wonkfest-2016/the-dome-and-the-boston-music-rooms/927642
Wonkfest is here again. The happiest, friendly party in the UK punk rock calendar. All the Wonk Fam, all the movers and shakers from the underground scene and beyond in one place to celebrate our scene. Coz we should be proud of it. This is 21st century punk, our scene our way, looking to the future, celebrating diversity, tolerance and acceptance. This is about love, not anger, a break from the rage and hate that surrounds us.
2 Stages, short 20 minute sets (the perfect length – all killer, no filler).
The amazing world famous Wonkfest buffet – please bring a tray of food – Deeeeeelicious! Hooray, it's my fav.Bring Meat,bring veggie, bring vegan.Tables and tables of wonder!
Amazing bbq – we kick off lunch time with a rad free bbq. We done 500 cheeseburgers and 300 veggie burgers in a couple hous last year!!
Breakfast!!! Yay! We'll be serving free bacon sandwichs from 11.15! 300 last year in an hour!! Weeeeeeeeeeee!
Foodbank – We'll be collecting for the local foodbank again.Filled a van last time coz you are lovely! Thank you!
That's Wonkfest, please buy an advance ticket and support the cause. They are ridiculously cheap for 30 of the best bands in the world. Like stupidly cheap. But we are stupid and punk like that and parties should be cheap init! We aint doing this to get rich.
SET TIMES (final)
Nosebleed 11.35 – 11.55 down
Werecats 12 – 12.20 up
Crashmats 12.25 – 12.45 down
Muertos 12.50 – 1.10 up
Uber yoo 1.15 – 135 down
Mummy 1.40 -2 up
The Apostates 2.05 – 2.25 down
Riggots 2.30 – 2.50 up
The Dead Class 2.55 – 3.15 down
Damger!man 3.20 – 3.40 up
The Franceens 3.45 – 4.05 down
Nova Twins 4.10 – 4.30 up
Spoilers 4.35 – 4.55 down
Faintest Idea 5 – 5.20 up
Midway Still 5.25 – 5.45 down
ROTPM 5.50 – 6.10 up
2 peas 6.15 – 6.35 down
Honour Louise 6.40 – 7 up
Ducking Punches 7.05 – 7.25 down
Pizza Tramp 7.30 – 7.50 up
Ming City Rockers 7.55 – 8.15 down
Bangers 8.20 – 8.40 up
Bad Breeding 8.45 – 9.05 down
The Murderburgers 9.05 – 9.25 up
The Restarts 9.30 – 9.50 down
The Roughneck riot 9.55 – 10.15 up
Consumed 10.20 – 10.40 down
Wonk Unit 10.45 – End up
SORRY, NO GUEST LIST X