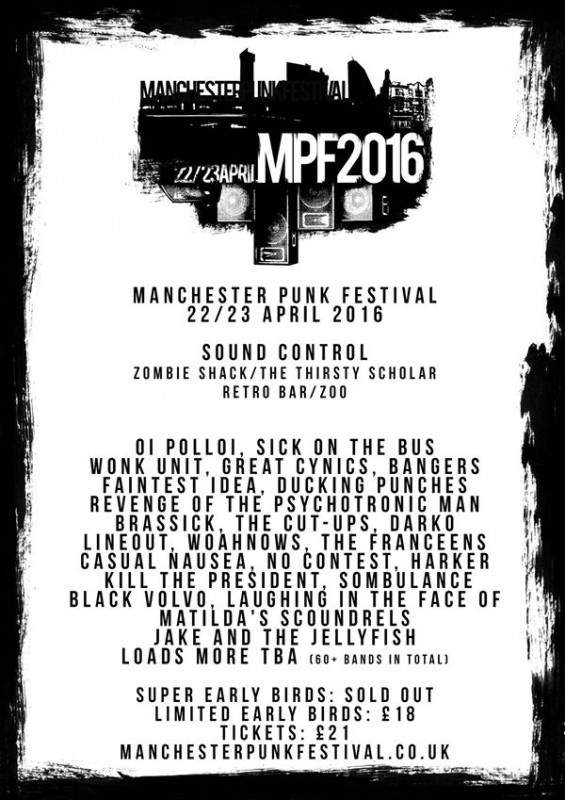 Manchester punk fest- the northern Wonkfest. Our scene, our punk. Killer gig!!!
Huge big two day festival in Manchester.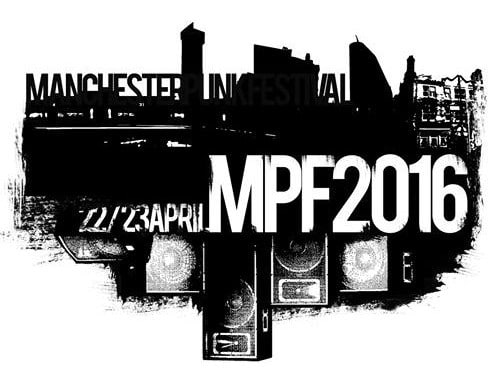 Over 60 bands will be playing MPF. Here are the bands that we have announced so far:

OI POLLOI
Anarcho Punk/Oi legends from Edinburgh.
FFO: Crass
Facebook
SICK ON THE BUS
Fast paced, in your face old school punk rock from London.
FFO: UK Subs, hard drinking, The Damned
Facebook
REVENGE OF THE PSYCHOTRONIC MAN
Stupidly fast punk rock from Manchester. Revenge have been relentlessly gigging all over Europe for the past decade. Things are likely to get silly.
FFO: Zeke, Kid Dynamite, The Steal
Facebook
FAINTEST IDEA
Two-tone fuelled ska-punk from Alan Partridge country, on TNSrecords.
FFO: Filaments, Inner Terrestrials, Rancid
Facebook
BANGERS
Bangers have been a stalwart of the underground DIY scene for years now, consistently releasing record after record of anthemic songs you can't help but relate and sing along to.
FFO: Off With Their Heads, The Menzingers, Joyce Manor
Facebook
BRASSICK
Birmingham's finest, playing a blend of hardcore mixed with old school punk rock with big choruses.
FFO: Discharge, The Distillers, Reagan Youth
Facebook
THE CUT-UPS
Exeter based five piece, first time in Manchester for a long while with their socially aware Bragg-inspired punk rock.
FFO: Billy Bragg, Fugazi, Jawbreaker
Facebook
DARKO
Melodic short man beardy hardcore from the surrounding areas of Guildford.
FFO: A Wilhelm Scream, Rise Against, Propagandhi
Facebook
DUCKING PUNCHES
Folk-punk from Norwich, heartbreaking songs and boozey singalongs. Last seen supporting Frank Turner and playing Reading/Leeds Festivals.
FFO: The Smith Street Band, Frank Turner, Flogging Molly
Facebook
GREAT CYNICS
A Manchester favourite, Great Cynics are a wonderful indie-punk band that are infectiously catchy.
FFO: Superchunk, Muncie Girls, The Sidekicks
Facebook
KILL THE PRESIDENT
Melodic Hardcore from Valencia, Spain. The prince is coming for you.
FFO: Fair Do's, Belvedere and Dead Neck
Facebook
SOMBULANCE
Fat Wreck influenced skate punk from Portsmouth.
FFO: Darko, A Wilhelm Scream and Strung Out.
Facebook
WONK UNIT
Arguably the most exciting band in the UK now. Catchy punk rock with a poetic vocal delivery.
FFO: Slaves, Snuff, any kind of horse or pony.
HARKER
Brighton 4-piece playing acoustic driven punk rock with anthemic gruff vocals.
FFO: The Loved Ones, Hot Water Music, Beach Slang
Facebook
LAUGHING IN THE FACE OF
Fast and technical punk rock from Birmingham.
FFO: Ten Foot Pole, Strung Out, Satanic Surfers
Facebook
BLACK VOLVO
Raucous punk n roll from The Netherlands. Black Volvo have played all over the UK and mainland Europe.
FFO: Dangerfields, Zeke, The Dwarves
Facebook
WOAHNOWS
Indie-punk three piece from the South West, songs to make you dance.
FFO: Having your mind blown.
Facebook
CASUAL NAUSEA
Catchy punk rock goodness from Ipswich.
FFO: ICH, Minor Threat, Subhumans
Facebook
LINEOUT
Melodic skate punk from Italy
FFO: Lagwagon, Atlas Losing Grip, Pulley
Facebook
JAKE AND THE JELLYFISH
Punky, folky reggae from Leeds. After releasing their impressive 'Dead Weight' album this year these guys continue to go from strength to strength.
FFO: Bootscraper, The Skints, Firepit Collective
THE FRANCEENS
Superbly delivered garage punk from York.
FFO: The Hives, The Briefs, The Computers
Facebook
MATILDA'S SCOUNDRELS
Folk driven punk rock and boat enthusiasts from Hastings. Their debut EP is excellent and we are sure they will get MPF moving.
FFO: Roughneck Riot, Bootscraper, Dropkick Murphy's
Facebook
NO CONTEST
Melodic punk rock from Grimsby.
FFO: No Trigger, Face To Face, NOFX
Facebook