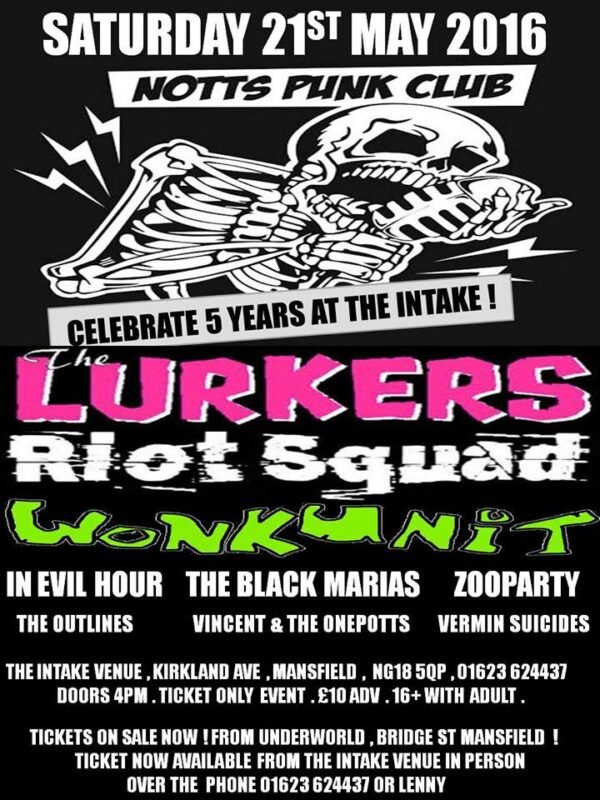 YEP 5 YEARS AT OUR LATEST AND GREATEST VENUE
LETS HAVE A BIG EN TO CELEBRATE? AND LETS GET SOME MATES INVOLVED ?
THE LURKERS
RIOT SQUAD
WONK UNIT
IN EVIL HOUR
BLACK MARIAS
ZOOPARTY
THE OUTLINES
VINCENT AND THE ONEPOTTS
VERMIN SUICIDES
16+
4PM DOORS
£10 ADV STBF
PASS OUTS
UNDERCOVER SMOKING
CHEAP DRINKS
NO NOBHEADS
THIS EVENT IS TICKET ONLY
TICKETS ON SALE NOW FROM
UNDERWORLD , BRIDGE ST , MANSFIELD
GO IN ITS A GREAT SHOP RUN BY NICE PEOPLE FOR FANS OF NICE CLOBBER , SMOKING STUFF AND GOOD MUSIC
OPEN 9 – 5 MON TO SAT
TICKETS £10 STBF AND POSTAGE
07714168705
07759137912
TICKETS NOW AVAILABLE AT VENUE £10 IN PERSON NO BOOKING FEE
OR £10 + BOOKING AND POSTAGE 01623 624437
DURING OPENING HOURS ONLY
FRI/SAT 6PM – MIDNIGHT
GET YOURSELF IN THEY ALWAYS HAVE GREAT GIGS ON AND NICE DRINKS !
OR GET IN TOUCH WITH LENNY ON HERE OR AT ANY PUNK CLUB EVENT
LETS DO IT !
MORE TICKET OUTLET AND ACCOMMODATION INFO COMING VERY SOON