It's over for another year, see you in 2019!
WONKFEST 6  WAS 2018
WHAT A DAY!  THANK YOU EVERYONE WHO CAME, PLAYED, DANCED, ATE, DRANK, and HAD FUN!
Definition

:  London's biggest DIY Punk festival.   BANGER!

Wonkfest!!! Definitely once again was the party of the year! The celebration of all things positive in our punk rock community. The biggest feast, the best bands, the most smiles.  The day when we leave all our frustrations with the world at home and come PAAAAAAARTY!!! x
Hooray!!!
Hosted by Wonk Unit, this is punk rock 2018, our year, our friends.  The nice folk we met on the way.

Venue:  The Dome, Tufnell Park, 2 Dartmouth Park Hill, NW5 1HL London, United Kingdom
The Date:  Saturday, 28 July 2018 at 11:00–23:00

Make sure you follow the Facebook event page for all the updates!

Did we mention food? Hell yeah!!! This Wonkfest we'll be upping the ante and doubling the deeeeeelicious!!! 2 BBQ's this time, one dedicated exclusively to your veggie/vegan cravings! We'll be bringing the buffet downstairs to the courtyard too, leaving the upstairs space for the lovely Leon and his "live" screen print.
You know how it works by now, bring something for the buffet and foodbank (Womens sanitary products again please) and we'll supply the good time Kentucky bbq grilling, the screenprint and the music!!
Wonkfest is such a rad day. It's more than just about the music, it's about all of us, you guys, our family.
You really are a decent bunch. Love you all very much.xx

LINE-UP INCLUDED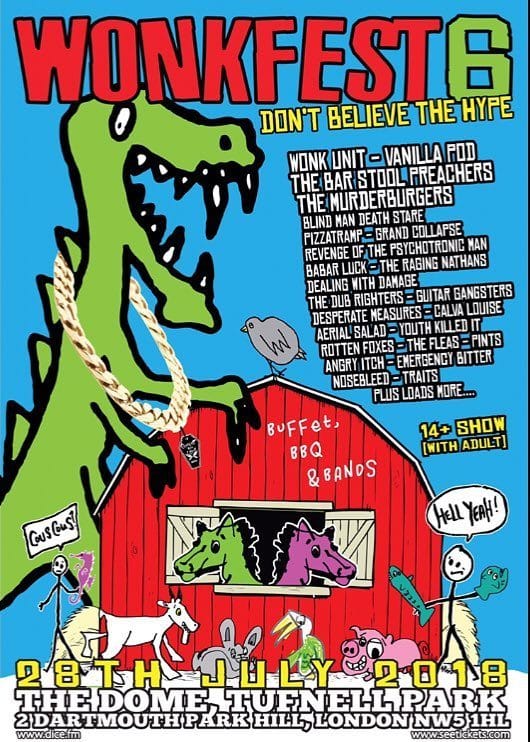 Wonk Unit
Vanilla Pod
The Bar Stool Preachers
The Murderburgers
Blind Man Death Stare
Pizzatramp
Grand Collapse
Revenge of the psychotronic man
Babar Luck
The Raging Nathans
Unwanted Consumer
Dealing with Damage
The Dub Righters
Guitar Gangsters
Desperate Measures
Calva Louise
Aerial Salad
Fights and Fires
Youth killed it
Rotten Foxes
The Flees
Pints
Angry Itch
Emergency Bitter
Nosebleed
Traits 
OUT JUST IN TIME, SEE LAST YEAR'S WONKFEST 5 VIDEO BY MARK RICHARDS!
WONKFEST 5 – 2017
Thanks for making Wonkfest 5 an amazing day!  The 5th incarnation of London's most exciting DIY Punk festival, was held for the 3rd year at the Boston Dome in Tufnell Park, London.  The brainchild of one of the most influential and original visionaries of the scene, Alex Wonk, aka 'Daddy' Wonk.   On Saturday 1st July, Hundreds of lovely people came together to watch 11 hours of banging bands play in the friendliest scene you'll ever find.
The Line-up was
Wonk Unit,  Spring King, The Murderburgers, The Parkinsons, The Cravats, Captain Hotknives, Bad Breeding, The Kimberley Steaks, Calva Louise, Great Cynics, Desperate Measures, Shot, The Cut ups, Maid of Ace, Nova Twins, Aerial Salad, The Raging Nathans, Fuck You Idiot, Matilda's Scoundrels, Spunk Volcano and the Eruptions, Pizzatramp, Domt, Pete Bentham and the Dinner Ladies, White Ape.
More about the bands from last year
BAD BREEDING have mastered dissonant punk rock, they have a totally unique style, so many gems. Two people in a room get's better and better every time I hear it, smashing
 >> https://soundcloud.com/badbreeding
The Parkinsons burst on to the scene at the dawn of the new millennium causing carnage in their wake, described as "Iggy Pop meets the Sex Pistols" they are back with a bang for Wonkfest 5 Xxx >> https://theparkinsons.bandcamp.com/
White Ape.  "It's like The Beatles on Acid…" so stoked to see White Ape playing Wonkfest 5..check out their brand new single below xxx > https://soundcloud.com/white-ape/sets/drones-clones-ramones
Tick! Tick! Tick! the party is coming to Wonkfest 5…It's SHOT with their "Politically distressed/Pissed up Punk Rock n' Roll from the hard knock pits of London" ….SHOT! kill it live and we are all in for a real treat! Xxx > https://shotpunx.bandcamp.com/
A bunch of us recently caught The Kimberly Steaks at the Wrox, which is secret code for Tha Rab 's house, seeing a band this good in someone's front room is an event to be remembered, there really is no hiding when it's so up close and personal…They were tight, catchy, upbeat, and ever so much fun….their brilliant Glaswegian pop punk tunes had everyone singing along and having a wonderful time from beginning to end…The Steaks really are a most excellent band and we are very lucky to welcome them to Wonkfest 5! Yay X > https://thekimberlysteaks.bandcamp.com/
Expect thunderous drumming, expect wild grime infused bass lines, expect catchy hooks, massive drops and precise lyrical delivery, It's our pleasure to bring you once again the NOVA TWINS XxX
Aerial Salad... a total gem of a band unearthed from the mean streets of Manchester making their Wonkfest debut this year. Recently played their first London show at the Windmill and blew everyone away with their catchy melodic punk, they certainly have that "je ne sais quoi" that all really good bands need, something you can't quite put your finger on…Expecting big things from these chaps, and they are lovely too! Xxx > https://aerialsalad.bandcamp.com/releases
Pizzatramp! These boyos should be no strangers to you by now, after ripping the roof off Wonkfest last year they were snapped up by TNS/Plasterer records and delivered one of the best UKHC records heard in years "Blowing Chunks"….mixing a snarl and a swagger with light hearted banter that can't fail to draw you in.