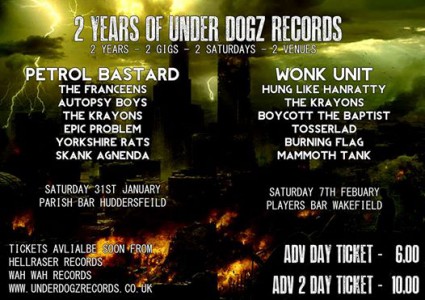 Wonk Unit + lots
February 7, 2015
Huddersfield
2 YEARS OF UNDER DOGZ RECORDS
AND JAMBO'S BIRTHDAY!
A SONIC CELEBRATION OF NEW PUNK MUSIC FROM ACROSS THE UK!
CONFIRMED SO FAR!
———WONK UNIT———–
one of the most unique bands in modern punk rock.
Wonk Unit are a fresh breath of life in the London punk scene. They're fun, weird, poetic and utterly compelling all at once, a must-see."
"(Wonk Unit) have managed the almost impossible task of having found their own sound.It's punk son, but not as we know it".Eugene Butcher (Big Cheese)
——-HUNG LIKE HANRATTY——–
HILARIOUS, FILTHY PUNK ROCK FROM MANSFIELD.
CATCHY AND UNFORGETABLE
—–THE KRAYONS———-
RAW, IN YOUR FACE, FAST AS FUCK STREET PUNK FROM WAKEFIELD
——-BOYCOTT THE BAPTIST—–
CRUSTY SLUDGE PUNK FROM LEEDS!
———-TOSSERLAD——-——-
HARDCORE CIDER SWIGGING PUNK FROM LEEDS
———–BURNING FLAG———–
FEMALE FRONTED PUNK, CRUST, D-BEAT NOISE FROM BRADFORD
——-MAMMOTH TANK————-
Punk Rock from Bradford, West Yorkshire. Heavy, riffy,fast, loud, shouty, singalong, whatever. From bradford