Description
The Scary Clown Presents mob are extremely proud and pleased to be able to offer our very first compilation album, The First Five Years.  Scroll down for the full tracklisting.  Released as a double vinyl album only, in a special wide spine thicker sleeve, with each album in a different colour – see the image below!  Will include bandcamp download code for your digital needs, and a 16 page, A4 page size photo-booklet featuring images from our gigs and the bands who have played our shows. £15 + £2.95 p&p.   
Features 12 NEVER BEFORE RELEASED tracks (or new versions of tracks), by WONK UNIT, Pizzatramp, Simon Wells, The Raging Nathans, Beverley Kills, The Deadites, Matildas Scoundrels, Not Tonight and The Headaches, The No Marks, Ducking Punches, The Atoms, and Pardon Us.
HEAD OVER TO THEIR SHOP TO PRE-ORDER A COPY
OFFICIAL RELEASE DATE: The SCP posse will start posting orders on 28th January 2019. OR get your copy at their release party gig on Saturday 26th January 2019, a huge SIX act extravaganza of a gig with; Airstream Futures + The Human Project + Crocodile God + Petrol Boys + Mean Caesar + Carol Hodge.  We will refund postage if you want to collect at the gig – you can buy a beer!    Order tickets and get your copy in person.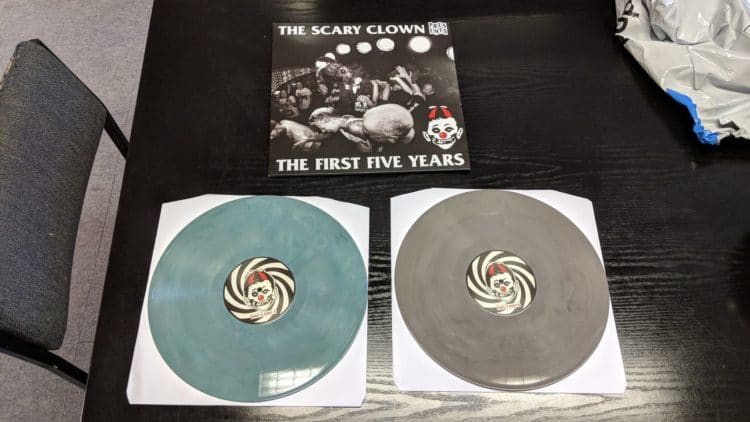 We wanted to showcase the amazing bands who have played with us in our first five years promoting and putting on shows in this amazing DIY Punk scene.  We've had over 110 bands play for us during that time, so we couldn't, unfortunately, feature them all.   We put out the call – and bands responded in amazing numbers.  So this album features 33 different bands, most but not all still gigging, with 82 minutes of pristine punk rock covering a large range of the sub-genres of our vibrant scene.  So that also means this is a DOUBLE ALBUM, two slices of coloured vinyl.  It will come in a single heavyweight sleeve (not a gatefold), designed for two albums.  We will add a 16-page photo and info booklet celebrating the bands and our gigs.  If you've been to one of our parties you may see yourself in the booklet!  The release is limited to 300 copies.  Each copy will include a printed download code, so yes you will get a high-qualitydigital download you can use with any player/phone/iTunes, or stream via our bandcamp page.  At this point in time we are NOT releasing this in any other form than the collectors vinyl – so NO CD.  It's something we may do at a later date, but for now, we wanted something really special.
Track list
* indicates never before released or a new version of an existing track
Circling the drain – Faintest Idea
Spy vs spy* – Not Tonight and the Headaches
Though bloodshot and blurry – Grand Collapse
Draw the line – Menshevik
Grey – Vanilla Pod
Oh, Ethyl – Laserchrist
Welcome to the party pal – The Siknotes
Anna* – Wonk Unit
Pride before a fall – Human Project
Something to talk about* – The Atoms
There is no hope – Wolfbeast Destroyer
What ya goonna do – Nosebleed
Six years* – Ducking Punches
Hierarchicide – Bolshy
Hiraeth – Darko
See you ringside – Spoilers
We are the Scary Clowns* – Pizzatramp
Apologies – Airstream Futures
Pushing poison – Deadbeat at Dawn
Final song – Crocodile God
On the way out* – The Deadites
Currupted system – Incisions
Whiskey and blood – A Great Notion
Survivor – Petrol Girls
Lost Weekend* – Pardon Us
Guuurl – Baby Seals
Standing Still – The Capitalist Kids
Heathen* – Matildas Scoundrels
Porcelain* – The No Marks
Emily* – The Raging Nathans
Oriental I – Dead Neck
Wreck me not* – Beverley Kills
Martin* – Simon Wells
HEAD OVER TO THEIR SHOP TO PRE-ORDER A COPY